#Aurore Wine Producers New York Vineyards
Aurore Wine Producers New York Vineyards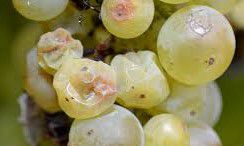 Aurore Grape
is a white complex hybrid grape variety produced by Albert Seibel created by Albert Seibel working from grapes varieties grown at his nursery and vineyard in Aubenas, Ardèche in the Rhône Valley in France.
The fruit of Aurore ripens early in the season between late August and early September. Although the vine is resistant of many mildew diseases, is productive and vigorous
Aurore may be used as a table or wine grape and used for wine production mostly in the Northern United States and Canada and United Kingdom used for for blending with wines made Vitis labrusca grape varieties. . .
Aurore-Wine Bully Hill Vineyards
8843 Greyton H. Taylor Memorial Drive Hammondsport NY 14840 New York Sate
Phone 0016078683610 Phone 0016078683210 Fax 0016078683205
Aurore-Wine Château Dusseau
5292 Erron Hill Road Locke NY 13092 New York Sate
Phone 0013154979463