#Saint Croix Producers Wisconsin Vineyards
Saint Croix Producers Wisconsin Vineyards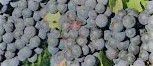 Saint Croix
The Saint Croix is a hybrid black grape wine. Created by Elmer Swenson
Recognized for its resistance to cold, the vines can tolerate very low temperatures.
This grape variety allows the creation of fruity red wines, rosé wines and fortified wines
Used for the production of wines in Quebec, it is also found in the states of New York, Connecticut and in the American Midwest. . .
Saint Croix Weggy Winery
30940 Oak Ridge Drive Muscoda WI 53573 Wisconsin
Phone 0016086476600 Fax 0016086478013