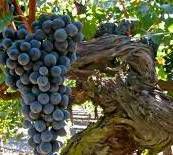 Cabernet Sauvignon Barossa Valley Australia page 3
Cabernet Sauvignon is a black grape of French origin. Grape is known worldwide it has become one of the most common grape varieties in the world. It grows in most wine producing countries in a variety of climates ranging from Canada to Lebanon. He owes his international recognition to Bordeaux vineyard, where it is often blended with Merlot and Cabernet Franc.
This variety has spread from France to Europe and then in all new wine regions such as California, Australia and Chile. During the twentieth century, it was the most planted grape in the world until it is surpassed by Merlot in 1990.
Despite the globalization of culture, this grape is a relatively new variety. It is the product of miscegenation between Cabernet Franc and Sauvignon Blanc made by chance in the seventeenth century .
Cabernet Sauvignon Rosenvale
Lot 385 Railway Terrace Nuriootpa SA 5355 Barossa Valley Australia
www.rosenvale.com.au
Phone 0061885623533 Fax 0061885657206
Cabernet Sauvignon Smidge Wines
62 Austral Tce Malvern SA 5061 Barossa Valley Australia
www.smidgewines.com
Phone 00618 8272 0369 Phone 00618 8272 8491
Cabernet Sauvignon Smidge Wines
62 Austral Tce Malvern SA 5061 Barossa Valley Australia
www.smidgewines.com
Phone 00618 8272 0369 Phone 00618 8272 8491
Cabernet Sauvignon Stonewell Vineyards
PO Box 96 Tanunda SA 5352 Barossa Valley Australia
Phone 00618562 8628 Phone 0061429 102 504 Fax 00618562 8628
Cabernet Sauvignon VineCrest Fine
Cnr Barossa Valley Highway Tanunda SA 5352 Barossa Valley Australia
Phone 00618 8563 0111 Fax 00618 8563 0444
Cabernet Sauvignon Greg Cooley Wines
Main North Road Clare SA 5453 Barossa Valley Australia
gregcooleywines@dodo.com.au
Phone 006188843 4284 Phone 0061419 683 303 Fax 006188843 4284
Cabernet Sauvignon Gromo Ancient Method Wines
Barossa Valley Australia
Phone 00610408087105
Cabernet Sauvignon Hemera Estate
1516 Barossa Valley Way Lyndoch SA 5351 Barossa Valley Australia
Phone 00618524 4033
Cabernet Sauvignon JB Wines
Nicolai and Rifle Range Roads Bethany SA 5352 Barossa Valley Australia
Phone 006188379 4359
Cabernet Sauvignon Lambert Estate
218 Barossa Valley Way Tanunda SA 5232 Barossa Valley Australia
Phone 006188564 2222
Cabernet Sauvignon Lunar Wines
RSD 108 Seppeltsfield Road Marananga SA 5355 Barossa Valley Australia
Phone 0061427 186 295
Cabernet Sauvignon Red Art Rojomoma
Barossa Valley Australia
Phone 0061421 272 336
Cabernet Sauvignon Richmond Grove Wine
16 Para Road Tanunda SA 5352 Barossa Valley Australia
Phone 00611300363153
Cabernet Sauvignon Burge Family Winemakers
Barossa Valley Way Lyndoch SA 5351 Barossa Valley Australia
Phone 00618 8524 4644 Fax 00618 8524 4444
Cabernet Sauvignon Earthworks
Para Road Tanunda SA 5352 Barossa Valley Australia
Cabernet Sauvignon Heritage Wines
399 Seppeltsfield Road Marananga SA 5355 Barossa Valley Australia
enquiries@heritagewinery.com.au
Phone 006188562 2880 Fax 006188562 2692
Cabernet Sauvignon Smallfry Wines
13 Murray Street Angaston SA 5353 Barossa Valley Australia
www,smallfrywines.com.au
Phone 00618 8564 2182 Phone 0061412 153 243 Fax 00618 8564 2182
Cabernet Sauvignon The Mute Vintners
Barossa Valley Australia
Phone 0061300 720 006 Phone 006129967 5900