#White Cayuga Producers New York Vineyards
White Cayuga Producers New York Vineyards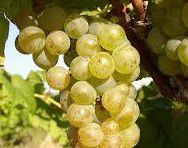 Cayuga is a mid-season ripening grape developed from crossings of the Schuyler and Seyval Blanc hybrids at the Cornell University Agricultural Experiment Station in Geneva, New York.
It is a rustic vine resistant to the disease. In warmer climates,
it can produce a beautiful sparkling wine with a good balance, or a fruity white wine similar to a Riesling or a Viognier.
This grape, when grown on mature vines in fertile soil, can produce amazing yields, relatively easy. In colder climates, Cayuga is the most popular hybrid grape to make good wine. . .
White Cayuga Adair Vineyards
52 Allhusen Road New Paltz NY 12561 New York State
Phone 0018452551377 Fax 0018456919584
White Cayuga Americana Vineyards
4367 East Covert Road Interlaken NY 14847 New York State
gotwine@americanavineyards.com
Phone 0018886008067 Phone 0016073876801 Fax 0016073873852
White Cayuga Angelica Winery
Angelica Winery15 South Steet Angelica NY 14709 New York State
Phone 0015854036728