Verdelho Producers Central Coast California
Verdelho Producers Central Coast California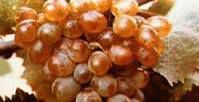 Verdelho
White Verdelho is a white grape grown in all Portugal. In Madeira, it also gave his name to one of four types of Madeira wine.
This grape produces a sweet wine that is characterized by a high level of alcohol content, usually around 17 °. With nice color
It is produced in very exposed to sun with ventilated soils with a balanced acidity and harmonious, dry and full bodied. It is one of the most planted on the small island of Madeira since vines are grown there.
Verdelho is also grown in Spain, Argentina and Australia.
Verdelho Morgan Winery
204 Crossroads Boulevard Carmel CA 93923 Central Coast California
Phone 0018317517777