Tinto Producers Central Coast California
Red Tinto Producers Central Coast California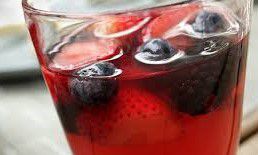 Tinto is a similar beverage of Sangria
Sangria
Typical alcoholic drink of Spain and Portugal,
Sangria is an alcoholic beverage with controversial origins. Sangria does not come from Spain, but it come from the Caribbean or South America. This is in nineteenth century that the first references to this drink are made, all the Americas who drank it in the French and British colonies.
This drink consists of a base of red wine in which had macerated slices of citrus and fruit with spices and sparkling water.
The name of this drink comes from sangre in Spanish (sangue in Portuguese) which means blood
Red Tinto Morgan Winery
204 Crossroads Boulevard Carmel CA 93923 Central Coast California
Phone 0018317517777